10 Indian influential personalities making their mark in 2023
Read Time:
5 Minute, 40 Second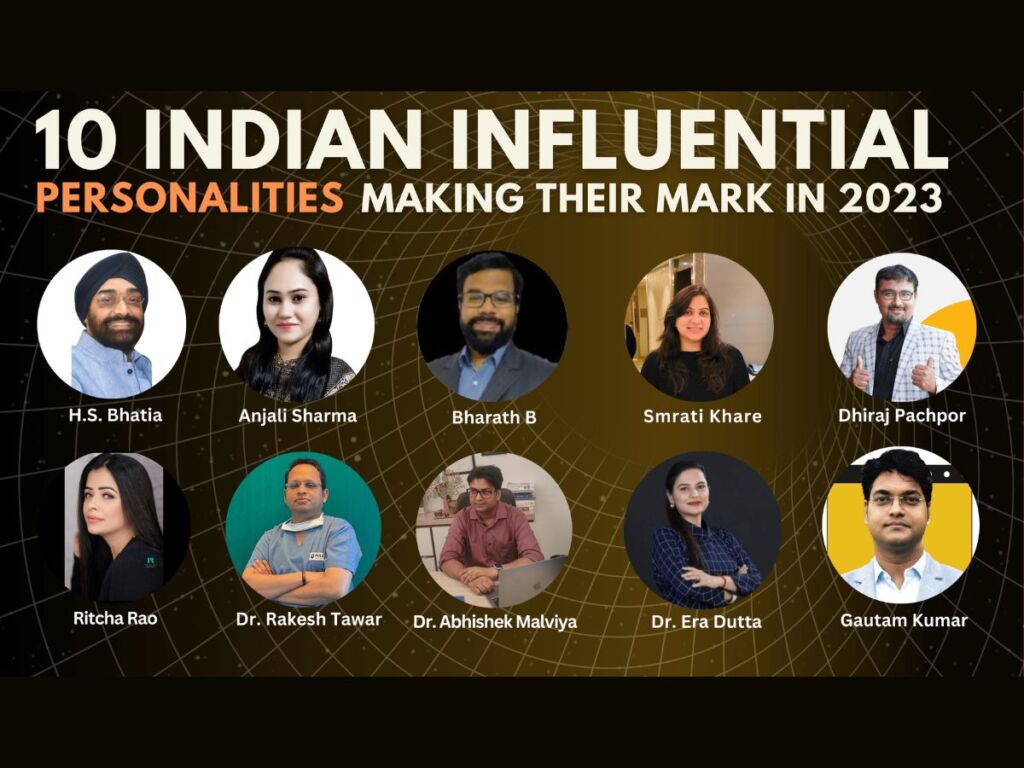 New Delhi (India), April 10: As digitalization dominates the best of mankind, collective intellectual and innovative efforts form the base of a strong society. Some individuals who strive to stand out from the crowd and mark their position at a much higher rate, tend to work more on their goals and continue to ace in their field.
These 10 Indian influential personalities have been making it big in the race of thriving to be the best. With the incorporation of values and modern technological solutions to create a better interface that celebrates innovation, these personalities have influenced their respective sectors and laid the foundation of a society led by high standards.
S. Bhatia
He is the Managing Director at Kelwon Electronics and Appliances Private Limited. The company manufactures and markets cutting-edge consumer goods like lithium hybrid inverters and alkaline water purifiers that improve the lifestyle of contemporary Indian consumers. After many years of work and diligent investigation by the R&D team, the company has developed the most innovative products and an exceptional sales and service network spanning all of India. The products are extremely innovative to suit the ambitions of Indian consumers who are working to improve their lifestyles while still being able to buy them.
Anjali Sharma
Anjali Sharma is an astrologer, numerologist, tarot reader, Vastu consultant, panic healer, and life coach by profession. She is the founder of the company, "Astro by Anjali" which provides consultations and counseling sessions to individuals who seem to be tangled and dominated by bad experiences. The company also offers courses to professionally teach the values of numerology and Vastu education.
To make people aware of the real Vedic wisdom and karma corrections, Anjali has now set the standards for her contemporaries. Astro by Anjali also deals in all healing products with authentic certifications. Highest Goggle related by customers.
Bharath B
Bharath is an accomplished figure in the digital technology space with over two decades of experience, known for his success in utilizing cutting-edge technologies to tackle business problems. He is a passionate startup enthusiast and a respected angel investor, advisor, thought leader, and mentor.
He is devoted to promoting and advancing innovation and positive change in the industry, with a strong commitment to supporting and fostering the growth of new businesses. His diverse skill set and outstanding achievements make him a standout personality in the industry.
Smrati Khare
She is the Co-founder of Cricadium, a leading digital platform that provides valuable insights and analysis to cricket fans around the globe. She drives the development and execution of business growth strategy, ensuring content is highly engaging and building partnerships. Smrati is also responsible for overseeing financial performance and ensuring the long-term sustainability of the business. Cricadium differentiates by providing in-depth coverage of cricket matches, teams, and players from around the world. Her passion for the game and dedication to excellence have earned her a reputation as an influential figure in the industry.
Dhiraj Pachpor
Dhiraj Pachpor is a best seller author, academian, certified NLP practitioner, an exceptional life coach and the founder of ProGrace Training Solutions, an institution that bridges the gap between academia and industry needs. Largely directed towards school pupils and is held on school atmosphere, the value driven company sets itself apart from other training businesses in the market by meeting students' demands early on.
He strives to incorporate value based teachings to inculcate life skills in young students to initiate the efforts for making society a better place where man values morality.
Ritcha Rao
Ritcha and Charu are two makeup artists under this brand name. This sister duo has exceptional make-up skills and is certified by the Academy of Makeup, Melbourne, Australia, and now serving Pan India and worldwide. They specialize in providing on-venue bridal makeup services and one of the emerging names in the world of bridal makeup artists in 2023. The value rests on highlighting the bride's skin with minimal and soft makeup without leaving an extra cast that makes the skin look over-emphasized and cakey. The services are most popular for lavish destination weddings in the country and abroad. Keeping everything subtle, classy yet glamorous is the motto of this artist duo.
Rakesh Tawar
Dr. Rakesh Tawar is a plastic surgeon in Dehradun who specializes in various cosmetic and reconstructive procedures. His areas of expertise include breast augmentation, liposuction, rhinoplasty, facelifts, and reconstructive surgeries to aid in post-trauma or illness recovery. With his dedication to patient safety and personalized care, Dr. Tawar has established himself as a respected and influential figure in the field of plastic surgery.
Abhishek Malviya
He is a renowned dermatologist and hair transplant surgeon based out of Indore. Dr. Abhishek has extensive experience in both dermatology and hair restoration surgeries. He is known for his unique approach to patient care, leveraging his experience and most advanced techniques and technologies to ensure the best possible outcomes for his patients. His expertise and compassionate approach have earned him a reputation as a leading influencer in the field of dermatology and hair restoration.
Era Dutta
Dr. Dutta has an MD in psychiatry, DNB in Psychiatry, MBBS. She is a renowned consultant psychiatrist who has primarily operated online since the outbreak. She has spoken at TEDX events twice, and her drug awareness podcast with REDFM, Dope Shope Drugs, earned her the title of best podcast host (science) in 2023. With over 22,000 followers, she is an active social media mental health influencer who promotes making mental health an approachable term.
To encourage people to focus on better mental health and wellbeing, she actively works to spread awareness about psychiatry and psychology.
Gautam Kumar
Mr. Gautam is an experienced Japanese language expert with over 13 years of experience. As the Founder of the Puraskaar Foundation, he is committed to providing free and superior education to those in need, with the help of more than 150 dedicated volunteers. He also serves as a consultant to several Japanese businesses, helping them establish effective communication and business relationships with their Indian counterparts. Currently, Mr. Gautam is working with G20 as an Indo-Japan expert to inspire young people about Japanese culture, customs, business ethics, and the economy. His extensive knowledge of the Japanese language and culture makes him a multidimensional expert.
These individuals who have continuously strived to provide the best through their services are contributing towards the betterment of the society and economy as a whole. With the immense urge to bring out the best in everyone, these personas have set the standards as successful entrepreneurs and guides.
If you have any objection to this press release content, kindly contact [email protected] to notify us. We will respond and rectify the situation in the next 24 hours.