Dr. Minal Chandra Cofounder of Epione Pain Relief Centre Receives Prestigious hmtv Naari Puraskar 2023
Read Time:
4 Minute, 8 Second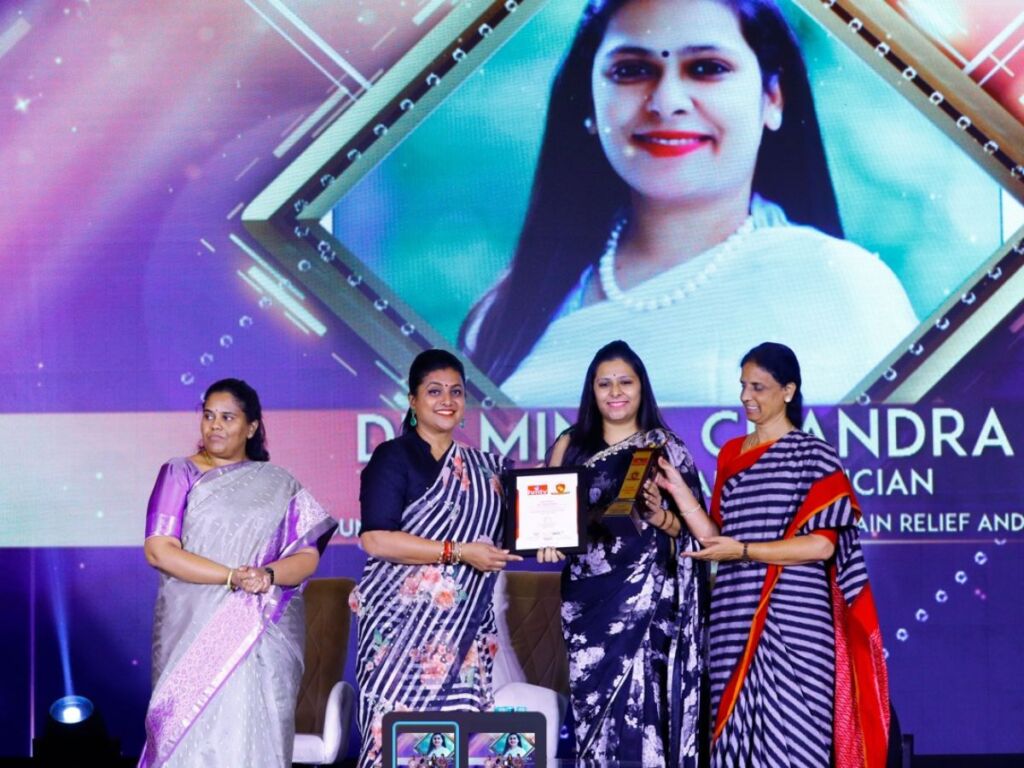 Dr. Minal Chandra Cofounder of Epione Pain Relief Centre Receives Prestigious hmtv Naari Puraskar 2023
Hyderabad (India), April 14: Dr. Minal Chandra, Cofounder & Consultant Pain Specialist at Epione – Centre for Pain Relief & Beyond ortho, Neurology & Regenerative Centre, has been awarded the prestigious Hmtv Naari Puraskar 2023 for her outstanding contributions in the field of medicine.
The award was presented at a glittering ceremony held at JRC Convention Centre in Hyderabad, attended by prominent leaders including MLC Smt. Kalvakuntla Kavitha, Telangana Education Minister Smt. P Sabitha Indra Reddy, and AP Tourism Minister Smt. RK Roja. Dr. Minal Chandra was honoured in the Hospital & Medical Category for her exemplary services in the industry.
Dr. Minal Chandra is a renowned pain specialist, who, along with her team at Epione, has been providing world-class treatment services to patients with complex pain issues for the last several years. She is an expert in various pain management techniques, including medication management, interventional pain management, and regenerative medicine.
Epione Pain Management Center, founded in 2018 by Dr. Sudheer Dara, a pioneer in pain medicine and founder of Regenerative therapy, is the newest addition to Hyderabad's medical landscape. Designed with a mission to deliver world-class pain management care to every one of its patients, the Epione Center for Pain Management & Beyond boasts state-of-the-art architecture and cutting-edge medical technology in treating patients with chronic pain.
Epione is a one-of-a-kind pain management center in Hyderabad that takes a multi-modal and holistic approach to treating pain conditions. The newest technique of Regenerative therapy for Chronic Musculoskeletal Pain was first introduced in Epione pain management center in South India and has done the highest number of cases and holds the India book of record for the same. With an accomplished team of pain specialists backed by neurologists, orthopedicians, psychologists, physiotherapists, and rehab experts, Epione provides an individualized pain management care plan for each patient that takes into account the patient's unique medical history, lifestyle, and preferences.
One of the key factors that sets Epione apart from other pain management centres is its focus on providing personalized care to each patient. Dr. Minal Chandra believes that each patient's pain condition is unique, and therefore, requires a customized treatment plan that addresses not only the physical pain but also the emotional, social, and spiritual aspects of the patient's life.
To achieve this goal, Epione has invested heavily in state-of-the-art medical technology to provide the most advanced pain management treatments available. This includes advanced imaging technology like MRI, CT scan, and ultrasound, which can help diagnose pain conditions accurately and quickly. It also includes cutting-edge therapies like Regenerative therapy, Radiofrequency ablation, MIPSI procedures which are non invasive and provide long-lasting relief for chronic pain conditions.
Overall, Epione Pain Management Center is a game-changer in the field of pain medicine, offering patients a revolutionary approach to pain management that is personalized, comprehensive, and cutting-edge. Patients can trust that they are in the hands of some of the best pain specialists in the country and that they will receive the highest quality care available. Epione Has helped more than 15000+ people from various pain and also helped them to recover using   Non surgical techniques.
Expressing her gratitude upon receiving the award, Dr. Minal Chandra said, "I am humbled and honoured to receive this award. It is a recognition of the hard work and dedication of my team at Epione, who have been striving to provide the best possible treatment care to our patients. This award is not just for me, but for all medical professionals who are working relentlessly to bring relief to people suffering from pain."
Dr. Minal Chandra is also actively involved in educating and training young doctors and medical professionals in the field of pain management. She regularly conducts workshops, seminars, and training sessions to enhance the knowledge and skills of medical professionals. Epione has also expanded their services in Chennai Recently and upcoming projects in Bangalore, Visakhapatnam, Dubai are about to complete in coming months.
The Hmtv Naari Puraskar is an annual event that recognizes the achievements and contributions of women in different fields, including healthcare, education, social service, and business. The selection process for the award is stringent, and the winners are selected based on their exceptional work, dedication, and contribution in their respective fields.
Dr. Minal Chandra's award is a great honour not only for her but also for the healthcare industry as a whole. Her recognition will inspire other medical professionals to strive for excellence and bring about positive change in patient care and extend their services to all in need.
If you have any objection to this press release content, kindly contact [email protected] to notify us. We will respond and rectify the situation in the next 24 hours.