PE Front Office – A software solution that can power your Alternative Investment Fund ahead
Read Time:
6 Minute, 4 Second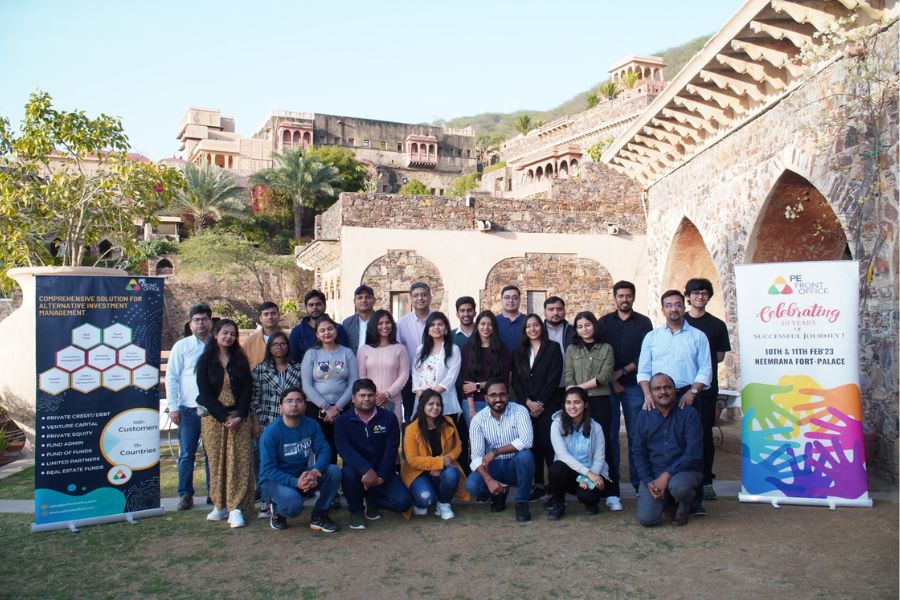 New Delhi (India), April 18: PE Front Office, established in Gurugram in 2013 by Anup Kumar Adlakha and Ankur Agarwal, is a B2B SaaS solution provider that caters to the Alternative Investment Management industry. With 100 plus customers in over 15 countries, PE Front Office offers state-of-the-art solutions to address the most dynamic challenges that Alternative Investment managers face across processes such as Deal Flow, Fundraising, Investment Management, Portfolio Monitoring, Investor Management, and Fund Administration.
We talked to the Co-Founder Ankur Agarwal, who shared his insights about the alternative investment management industry, how technology can speed up processes, and how does the future look like with the latest technology trends.
What inspired you to create a platform for the Alternative Investment Management Sector?
In 2013, when Anup and I were working in a private equity firm in the UK, we noticed a huge gap in the software space catering to the Alternative Investment Industry. We realized that technology was at best being utilized to manage the Back-office operations, while the Front and Middle-office operations were managed largely with a manual approach using traditional tools like Excel or in-house developed solutions. We realized that this was because there was no convenient and efficient technological solution that could provide a great customer experience without committing huge resources of time and money.
To address this issue, we decided to use our expertise in technology and industry experience to develop a SaaS solution for the Alternative Investment industry. The solution was envisaged in such a way that it could be implemented within a short span of time and with a pay-as-you-go model so that it becomes easy for Alternative Investment Management firms to implement. As a result, in February 2013, we launched PE Front Office with its headquarters in Gurugram.
How to do the front office and middle office functions in a Private Equity Firm? Can you elucidate in simple terms for the layman?
While the definition of Front and Middle Office operations may slightly differ from firm to firm, in general, the Front Office operations entail:
Deal Flow i.e., management of potential investment opportunities and deal due-diligence operations.
Fundraising i.e., management of potential Investors and Investor Onboarding & KYC operations.
The Middle Office operations, on the other hand, encompass:
Investment Management i.e., management of investment cashflows and valuations and tracking of investment performance.
Portfolio Monitoring i.e., tracking of Financials/KPIs and ESG data of portfolio companies.
Investor Management i.e., management of investor relationships, drawdown/distribution operations, and reporting to investors.
Since Private Equity, Venture Capital, and other Alternative Investment Management firms required a tailored solution to meet their unique requirements, they were not quick to incorporate technology into their operations beyond the back office. Hence, the cloud-based PE Front Office solution was created to meet these specific requirements.
How have you customized your offerings to align with the needs of your customers?
Customized solutions are necessary to manage the distinct requirements of each market segment within the Alternative Investment Management industry. We love talking to our customers and keep gathering insights and feedback on various things. Today we can proudly say that who so ever takes a demo of our software very distinctly says that 90-95% of their requirements are already baked in our base version. We have been able to reach this stage because PE Front Office is easy to customize and adapt as per the need of the customer.
We initially concentrated on the Private Equity and Venture Capital market segments. However, with time, we started examining the requirements of other segments, such as Private Credit/Debt, Fund of Funds, and Family Offices and started developing solutions for them. For example, we customized our solution to meet the requirements of the Fund of Funds segment wherein there's a need to track the whole Fund of Funds ecosystem that includes investments made across Investee Companies as well as Investee Funds. Further, we upgraded our solution to meet the complex requirements of Private Credit/Debt Funds wherein an important task is to track Amortization Schedules with multiple debt scenarios. We also tailored our solution to incorporate dynamic requirements such as Hedging and Revenue-based financing model. Additionally, when it comes to reporting, the size fits all approach doesn't work. Hence, we began offering customized reports to meet the specific reporting requirements of each customer.
How have you grown as a company over the last ten years?
PE Front Office has evolved strongly over the past decade. While our base version was aimed at addressing the common pain points of Private Equity and Venture Capital firms only, our latest version addresses the most dynamic challenges of the Alternative Investment Management industry and boasts brand new UX, role-based User Interfaces, Plug-ins, and Mobile Apps.
PE Front Office has expanded its base across different market segments such as Private Equity, Venture Capital, Private Credit/Debt, Fund of Funds, Limited Partners, Family Offices, and Fund Admins.
In specific terms, today, we are present in 15 countries, including the United States, the United Kingdom, South Africa, Singapore, and Hong Kong, and offer services to over 100 customers. Of course, this is just the beginning, and we have miles to go before we can say we've met our goals.
What differentiates PE Front Office from other solutions available in the market?
PE Front Office offers a comprehensive suite of solutions that encompass all facets of the Alternative Investment lifecycle, including Deal Flow, Fundraising, Investment Management, Portfolio Monitoring, Investor Management, Investor Portal, and Fund Administration. The software has integrated plugins for Gmail and Outlook, facilitating communication with investors.
The PE Front Office solution is designed to enable Alternative Investment funds to analyze large volumes of data on investee companies to make informed decisions. At every stage of the investment lifecycle, the solution ensures a smooth and secure workflow, resulting in improved operational efficiency and better data quality for sound decision-making.
Our USP is our agile approach which enables us to focus on milestone-based project delivery resulting in one of the shortest implementation cycles in the industry. At PE Front Office, we give utmost importance to correctly understanding customer requirements as well as feedback from product demos and ensure that the same is incorporated into the solution. Additionally, our flexible framework allows for quick and inexpensive customizations. We aim to continually enhance our offerings to provide intelligent, personalized solutions to our clients.
What is your vision for the future?
In a technology-driven world, it is crucial for the Alternative Investment Management industry to adapt quickly and leverage available solutions to gain a competitive edge. We have completed an amazing decade, and we are ready for more. We hope to conquer new territories and add to our growing base of satisfied customers. We expect to stay ahead of the curve, adapt and reinvent our solution depending on the needs of the dynamic business landscape we operate in, and offer cutting-edge software solutions for our clients.
If you have any objection to this press release content, kindly contact pr.error.rectification[at]gmail.com to notify us. We will respond and rectify the situation in the next 24 hours.