10 Companies That Are Making a Difference in Their Communities in 2023
Read Time:
6 Minute, 8 Second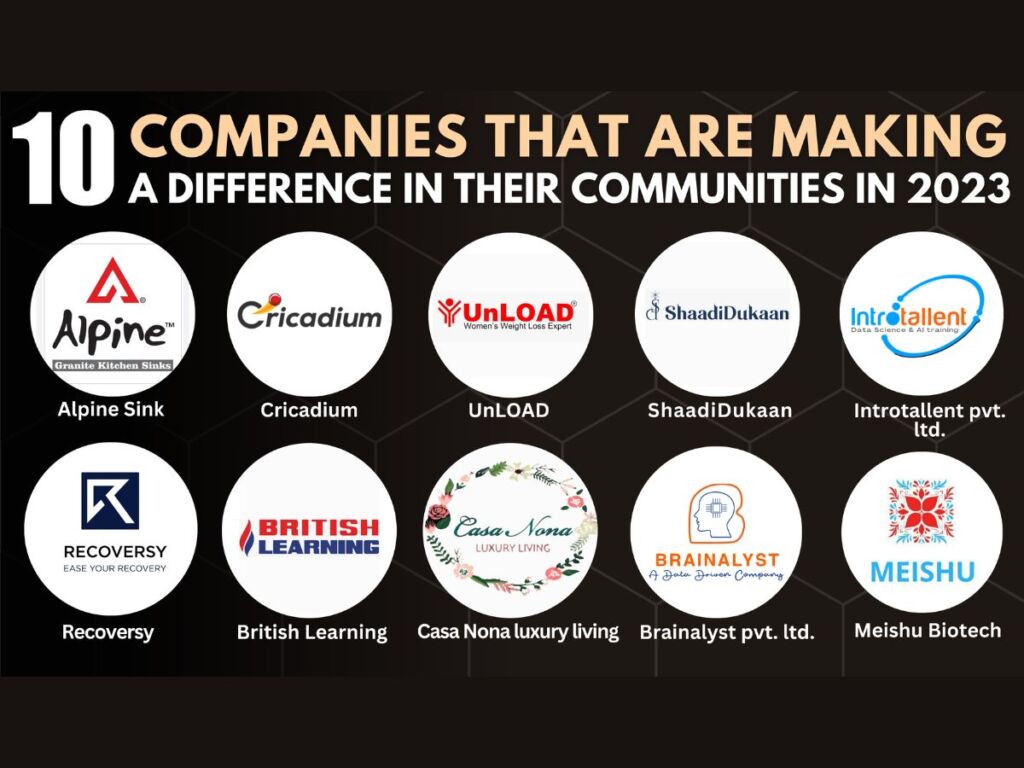 New Delhi (India), April 21: The talent-oriented companies are banging the floor with their unique set of products and services in the market. Each of these blissful organizations is different from the others through their strategic approach to their goal setting. Their focused and dedicated zeal made them find their way to succeed with the huge growing satisfied customer community.
Meet the value ethics set with the extreme team effort by 10 such companies, which are here to inspire many upcoming businesses in the future:
1) Alpine Sink
Mr. Hiren Jethva (Founder & Managing Director)   and Mr. Ramesh Patel (Director) have played a vital role in the tremendous growth of Alpine Sink. Alpine Sink based in Ahmedabad, wins the 'TV9 Excellence Award 2023' from the CM of Gujarat Shri Bhupendra bhai Patel for their specialized kitchen sink products. Their mission is to provide their customers the top-notch quality kitchen sink products. They offer the best responsive customer support to retain their lifetime value in the industry. It is a brand that offers a variety of sizes, colors, and styles of granite kitchen sinks to meet the special design needs of each kitchen.
2) Cricadium
Cricadium is a digital platform that stands out from its competitors by providing cricket fans with a unique blend of reliable news, in-depth analysis, and user-friendly features. The website offers coverage of all major international cricket events, including Test matches, One-Day Internationals, T20s, and domestic leagues, along with detailed statistics, player profiles, and expert opinions on the game. With its comprehensive coverage and easy-to-use interface, Cricadium has become a go-to destination for cricket enthusiasts worldwide who seek a one-stop solution for all their cricket-related needs.
3) UnLOAD
Asha Ashta is the founder of UnLOAD with the motto to solve Weight Loss Challenges for Women.  UnLOAD by Asha Ashta is ISO 9001:2015 certified by IAS, USA and is a Registered Trademark. It is based in Mumbai and runs Live Online Weight Loss Programs. In their Weight Loss Programs, they don't use any Herbals, Supplements, Medicines, etc. No Exercise either of any kind. They don't go for Dieting or Fasting but follow a unique regular home meal intake. Till now more than 12,000 women and their 50,000 family members, from 56 countries, have benefitted from their Weight Loss Programs, losing up to 20kg in 90 Days and 14″ Loss on the Waist.
4) Shaadidukaan
Shaadidukaan is the fastest-growing online wedding-planning marketplace founded in the year 2015 by Rohit Sharma. The Company provides prominent services PAN India by connecting its valuable customers with an array of verified registered wedding vendors of 46 wedding categories digitally.  As Online Wedding Planning Market, their objective is to be the most convenient and cost-effective support to plan weddings online. At Shaadidukaan, customers can view the portfolio, visualize & read testimonials, compare the prices, and plan their wedding online without any hassle.
5) Introtallent Pvt Ltd
Introtallent Pvt Ltd is an Edtech Company growing under the strategic leadership of the founder and CEO Mr. Mukesh Jha. Intortallent is a top-tier EdTech company based in Bangalore that specializes in providing comprehensive data science and analytics courses. With cutting-edge courses and unparalleled career guidance, Introtallent empowers learners with the skills and knowledge they need to succeed in the competitive field of data science. Their personalized mentoring program help professionals and learners build competencies to help them transition their career to Data Science and Analytics from other domains/backgrounds. They focus on quality and outcome-based learning and support learners even after completion of their course.
6) RECOVERSY
RECOVERSY is a specialized investment recovery consulting firm that helps investors retrieve their lost or forgotten assets, including shares, bonds, and mutual funds. With expert professionals, Recoversy manages the entire recovery process, requiring minimal input from clients and providing quick responses. Clients can use Recoversy's free "Search Platform" to determine if they have unclaimed investments based on their name. Recoversy is one of the few companies in India that offer this service, and is dedicated to making the process simple and hassle-free. With an experienced team and an innovative search platform, Recoversy is a reliable choice for investment recovery consulting.
7)   British Learning
British Learning is regarded as one of the finest EdTech Companies in the world.
Virtually 1Lakh students in over 20 countries have benefitted from the Career Oriented Short Term Courses from British Learning.
This is one Edtech Company that had made a tremendous impact in the community as tens of thousands of women have managed to secure lucrative jobs in India and other developing countries only due to the World Wide Acceptance of British Learning Certification
8) Casa Nona Luxury Living
Khushbu Jain has established Casa Nona Luxury Living in October 2016. The company has Customized furniture such as Residential, Office space, bespoke, French, Victorian, and Indian across a variety of materials. From classic designs to modern creations, each piece is made with the utmost care and attention to detail, using only the finest materials and techniques. The products are Handcrafted, Unique Pieces with customizable Designs tailored to the individual customer's needs, ensuring that their clients receive truly one-of-a-kind creations that are unlike anything else in the market. For those who demand nothing but the best, Casa Nona is the ultimate destination for luxury furniture.
9) Brainalyst Pvt Ltd
Nitin Sharma is the founder of Brainalyst Pvt Ltd. The company provides career-oriented, affordable training & courses in Data Analytics, Data Science, Machine learning, deep Learning, Artificial Intelligence, Big Data & Cloud Computing domain with Placement Assurance. They are the first ones who launched an actual Full Stack Course in the mentioned domains. They are providing all the facilities in an affordable price range, which is the lowest in the current market in terms of Batch delivery, Curriculum & Placement Assurance. They are working with Non-STEM background learners to make them Job ready in the tech domain. These will be a new revolution in the mentioned domain & possessing the motto "Education for Everyone"
10) MEISHU BIOTECH
MEISHU BIOTECH is established by Group of Research Scientists in 2020. The company is a leading provider of innovative, cutting-edge products and services. They strive to exceed customer expectations and provide a superior customer experience through their commitment to quality and excellence. The company deals in Patented products in Critical care, respiratory, orthopedics, nutraceuticals, and neurology.
The pharmaceutical company offers high-quality medications bagged by comprehensive research and development. Their products are safe, effective, and affordable.
Their team of experts is dedicated to providing personalized and comprehensive care to meet the unique needs of their customers.
The excellent performance level of these 10 companies is reflecting the great potential availability treasure of   India. They have proven their separate and unique set of protocols that have marked the durability of quality trust spread in society. Each of them is the best in their field and going ahead excitedly to sustain the difference with more polished results for their customers.
If you have any objection to this press release content, kindly contact [email protected] to notify us. We will respond and rectify the situation in the next 24 hours.