Business Automation Journey with SMARTINFOLOGIKS
Read Time:
3 Minute, 37 Second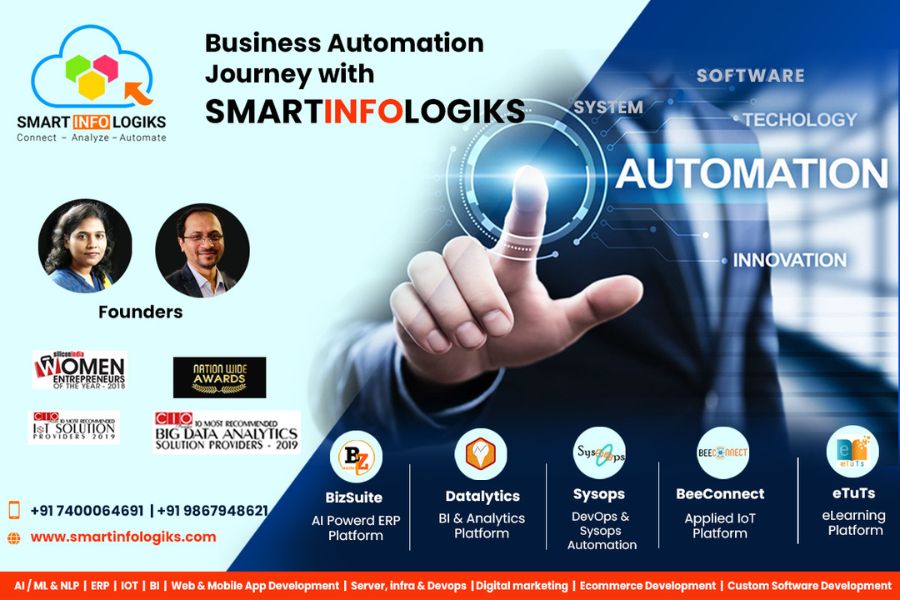 Mumbai (Maharashtra) [India], April 25: The year 2013 marked a historical transformation for businesses with a sturdy and adaptable tech stack coiled with digital solutions introduced by Smartinfologiks. The company thrives on a mission to satisfy the requirements of today and unleash the perks of tomorrow. En route towards the path of technological and digital leadership right from designing and development to processing, the institution helps businesses shape and build teams worthy of driving them forward.
With an amalgam of multiple industrial expertise and radical tech stacks, Smartinfologiks has been successful in bagging the honor of serving an edifying platter of reliable and scalable cross-platform and enterprise software solutions concerning desktop, browser, and mobile devices followed by products that are an ideal fit specific to the end-users demands and behaviors.
Services:
For optimum business development, the best-in-class solution is the key!
Smartinfologiks understands its client's business requirements better. The company can help transform your business with competitive and leading-edge software development practices coupled with reliable eCommerce portal development, mobile app development, cross-platform application development, custom software development, digital marketing services, Advanced Analytics Solutions, DevOps and AI/ML and NLP tech services.
Smartinfologiks products and solutions encompassing Cloud-based ERP solutions, industry-specific business automation software solutions, Advanced Bigdata analytics, BI and dashboards, Energy & IOT solutions, AI/ML Ops, Software solution architecture, DevOps platform engineering solutions, e-Learning Platforms etc.
Industries we catered:
Grounded in Navi Mumbai, Smartinfologiks, for more than a decade now, has been providing effectual global IT software solutions. The services and solutions are broadly implemented across industries such as Fintech, healthcare, energy and utilities, battery, manufacturing, sales and services, retail, FMCG, shipping and logistics, education and so on.
Leadership Team: 
As per the founders of Smartinfologiks, Mr. Bismay Kumar Mohapatra & Ms. Kshyana P Mohapatra [Mita], the organization is not only a player in streamlining business processes with its custom software solution but also helps companies build its brand's goodwill from square one. Adding up to that, Mr Bismay mentioned the firm believes in unswerving development, a well-built team, and consistent learning, which have assisted them in strategizing to optimize clients' objectives. The expert squad is well-positioned and experienced in data-driven analytical solutions, high-volume transactions platform development solutions, DevOps solutions, and AI/ML Ops development, add Mr. Bismay. Co-founder Ms.Mita who has a balanced blend of business acumen blending technology to resolve agile business challenges; thereby addressing vital societal issues to edifice a sustainable future; She bags adequate customer solutions and experience and helping the team in simplifying business acumen using innovative solutions across occupational needs, irrespective of the industry niches. The constant effort of providing end-to-end IT services, design, development, brand and quality assurance with dedicated enthusiasts hailing from multiple industry domains and technologies; has made it possible for the Female Sovereign (Mita) to bring laurels as "The Most Promising Silicon India Women Entrepreneur of the Year, 2018.
Having dealt with and serving more than 400+ success stories in different domains, Kshyana Prava (Mita) adds another golden wing to the hat as "The Nationwide Awards Under 40 Most Promising Entrepreneurs, 2023. The unstoppable tech diva and her team are committed to empowering businesses with technological innovation and experimental IT solutions to succeed in the effervescent business domain.
Awards Achievements: 
Smartinfologiks "Featured in Top 10 Big Data Analytics Provider: Secure Big Data Platforms Helping Business to Scale Rapidly, 2019."
Smartinfologiks "Featured in Top 10 IOT Solution Provider: Analyze Anything and Everything with Cost-Effective Enterprise Solutions."
Smartinfologiks "Featured in Business Mint in 2023."
Smartinfologiks was established as a technology firm to set a benchmark in the industry standards: a full-time and full-service technology firm seizing unrivalled heights. Established on the values and principles lacking in its competitors- laid the foundation of Smartinfologiks. Well equipped with skilled resources Smartinfologiks, the end-to-end IT solution provider, can help you leverage an extensive catalogue of consumer solutions globally in concord with on-demand solution delivery and help you with your dream product development in all cutting and bleeding-edge technology.
If you have any objection to this press release content, kindly contact pr.error.rectification[at]gmail.com to notify us. We will respond and rectify the situation in the next 24 hours.