60+ Industry Experts Provide Career Guidance to Students at iLEAD's Future Vista 2023
Read Time:
4 Minute, 8 Second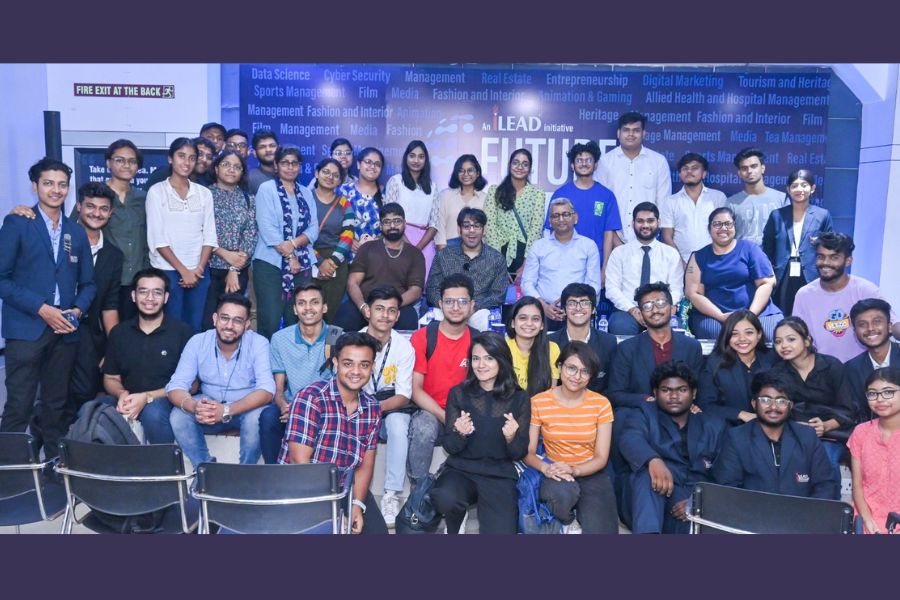 Kolkata (West Bengal) [India], May 10: On April 24th2022, the 5-day career conclave 'Future Vista – The New Age Careers' dedicated to students was inaugurated at iLEAD. Future Vista was organized with the aim of discussing the changes and growth in various sectors along with emerging new-age career opportunities. 14 panels, 40+ organizations and 60+ industry experts came up to provide the students with the best possible career guidance.
Dignitaries from media, film, digital marketing, sports, tourism, tea, management, technology, entrepreneurship, animation, gaming, fashion and interior design, data science, cyber security and allied healthcare provided their insights and interacted with the students.
Motivating students to take up the entrepreneurial route, Ms. Sujata Chatterjee(Founder and MD at Twirl.store and President of WICCI WB Sustainable Business Council) spoke about 'solving problems in society through entrepreneurial ventures. She shared how the 'effects of fabric wastage' motivated her to start Twirl.store.
Talking about the revival and resurgence of traditional media in the modern era, veteran journalist Mr. Jayanta Ghoshal explained how 'content is still the king'.
In the film panel, Mr. Siladitya Sanyal(Professor, Direction & Producing for Electronics & Digital Media, SRFTI) spoke about 'plot-centric storytelling'.Ms. ModhuraPalit (Cinematographer) talked about how the 'future of filmmaking is co-production and co-funding between countries.
Discussing the opportunities in the MSME sector, Mr. Subir Roy(Business Analyst and Entrepreneurship Expert, Entrepreneurship Development Institute of India) enlightened the students on 'how technology is helping artisans in Bengal earn more'.
The opportunities in the sports sector are also enormous. Mr. SumedhPatodia(Team Director, Kolkata Thunderbolts) gave insights on 'how to start a business in the sports industry'. Mr. Yan Law(Ex-National Team Footballer, Asia's Youngest Professional Coach) spoke about the 'recruiting process in the football sector'.
Mr. Ashok Bhargava(CEO of the Tea Vision Trust, Ex-Chairman of the Indian Tea Association and CCPA) talked about competency in the tea sector at present, the current scenario of the tea industry and the challenges of the industry.
The animation and gaming panel also provided valuable insights to the students about the industry.Mr. Sankha Banerjee (Asst Professor, Department of Multimedia, St. Xavier's College, Kolkata)provided guidance on how to become an illustrator or graphic novel artist. He also talked about the importance of ethnic and own cultural storytelling. Mr. Som Sankar Naskar talked about how AI will impact the gaming industry.
Mr. Abhishek Ray (Fashion Designer) spoke about 'adapting to changes and sustainability and reusability in the fashion industry'. Ms. BidishaMoitraBasu (Interior Designer) stressed the importance of 'changing and evolving with time'.
In the digital marketing session, Mr. Angshuman Sett(Founder and CEO, NIHT) enlightened students on targeted marketing and the quality of content on the internet. Mr. Sumit Agarwal(Linkedin Top Voice) spoke about connecting and creating a community on Linkedin.
Mr. Avik Ghosh(East Head, NEXUS DMC, TRIP FACTORY) talked about the numerous departments to work in the tourism industry. Mr. Srinjoy Sen (Founder, BookMyTrav.com) spoke on 'starting a travel business with zero investment'.
Mr. Anindya Sen Majumdar(Associate Vice President, Osteostrong India) gave insights on 'the qualities that are looked in candidates for a career in the healthcare industry'.
Dignitaries from the panels of data science and cyber security also guided students on how to cope with the continuously changing and evolving technology. Mr. Samrat Paul(Data Engineer and Scrum Master) advised students to 'be open-minded, agile, think differently and adapt with changes'. Mr. Soumen Mukherjee(Associate Professor, RCC IIT) talked about the 'importance of practical learning and how anti-virus companies like Quickheal are collaborating with institutions to provide internships to students'. Mr. Abhishek Banik (Project Manager, Oracle Solution Practice, PeopleSoft, Cognizant Technology Solution)talked about threats that businesses are facing today, including malware and spyware.
The new media panel had Mr. Sayan Ghosh (Content Creator), Ms. Jhilam Gupta (Video Content Creator), Mr. Aritra Ganguli (Content Creator), and Mr. NayandeepRakshit (Journalist) as panellists. The panel talked about equipment that is used behind the scenes to shoot, the importance of educating mass about how to use social media, how to deal with trolls and more.
All the panellists took questions from the attending students and gave suggestions about their future careers.
About iLEAD – The Institute of Leadership, Entrepreneurship and Development is rated as the 4th Best Media School in India by KPMG, adjudged College of The Year in t2 Festopolis 2017, the Best Co-Curricular Activity College at Gurukul Awards 2017, Best Entrepreneurship Development Program Institute at the Sankalp Education Awards 2019. iLEAD is affiliated to MAKAUT. It also has collaborations with 16+ international universities. iLEAD offers degree courses in media, management, design, technology, allied health, tourism and other professional studies both at the undergraduate and postgraduate levels.
If you have any objection to this press release content, kindly contact pr.error.rectification[at]gmail.com to notify us. We will respond and rectify the situation in the next 24 hours.