Fashionista Samantha Kochharr arrives at the literary scene with her debut book Arribada: The Arrival
Read Time:
3 Minute, 6 Second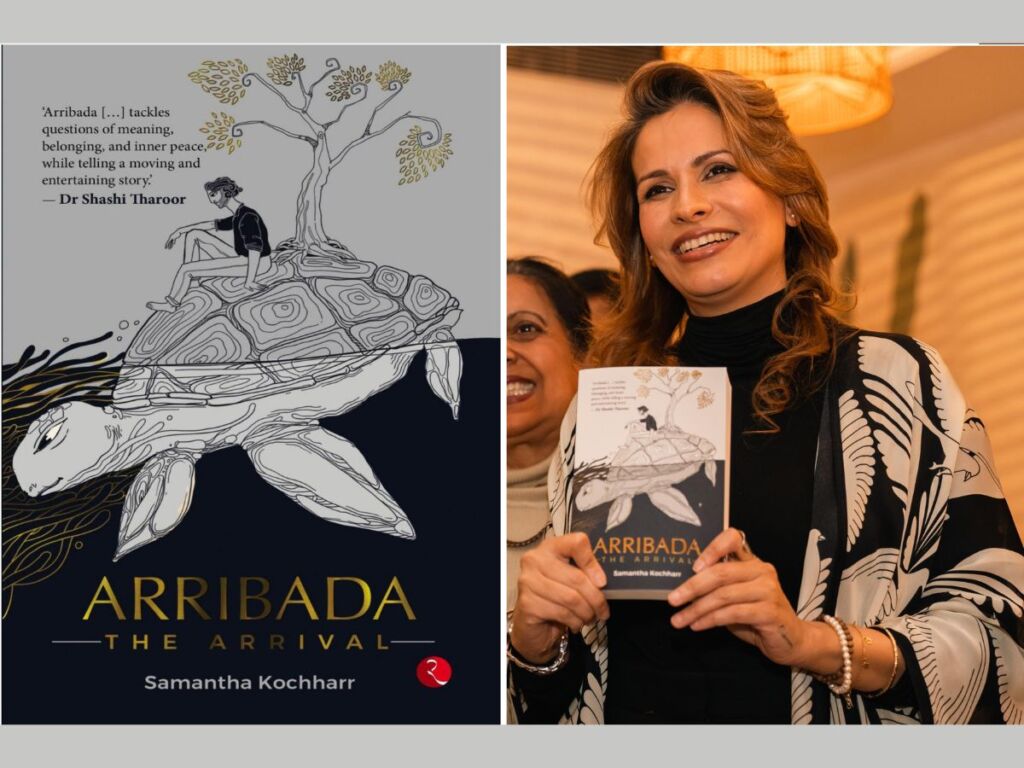 Debutante author Samantha Kochharr at the launch of book Arribada: The Arrival. Samantha is the MD of Blossom Kochhar Aroma Magic, a wellness expert and a practising shaman
Kolkata (West Bengal) [India], April 14: Samantha Kochharr's first book Arribada: The Arrival, is an extension of her spiritual journey and an experiential account of life events.  Dollops of distilled wisdom seep in as the pages turn, and the reader embarks on a journey of a kind with Samantha – a practising shaman.
Debutant author Samantha, Managing Director of India's leading cosmetic brand – Blossom Kochhar Aroma Magic, delves into and draws in flashes of insights from the ancient shamanistic traditions of deep intuitive thoughts. Samantha has been a practising shaman since 2013 and has extensively studied energy healing. Over the years, she has worked as a grief whisperer with people from all walks of life.
"Something that just pops up in your mind, and you find yourself writing it out. That is Arribada took shape," says Samantha Kochharr, the Chief Expert for hairdressing for India Skills and the Deputy Chief Expert-Hairdressing for World Skills International.
Arribada: The Arrival follows the story of a man named Joy and Ollie, a turtle, as they navigate through life and embark on an unusual journey of discovery and healing. The book's inspiration is drawn from an esoteric realm that opens up only to the ardent seeker and pure souls. The result is a trance-induced narrative that flows in from the inner world to teach the earthly people life lessons through a story with its rhythm, sound and healing qualities.
Reading Arribada one may sense a `Castanedian' streak and reminisce about the writings of Carlos Castaneda. Subtly it makes us aware of the grand universal scheme of things and the interconnectedness of everything in nature.
Commenting on the name of the book Arribada, Samantha says, "The Olive Ridley turtles are born on one beach, and while they will feed on a different beach, every year they will come back to the beach where they were born – either to mate or just be around the waters. This behaviour of the Ridley turtles is called arribada, which means `arrival by the sea' in Spanish."
"I have been a shamanic healer for a while now. Being a company's managing director, it is not easy to drop everything and be on your spiritual journey. So when I sit down and pray, I often get messages from the universe and strong intuitions. It was around 3-4 years back when Covid hit us. While I was doing my prayers, I got the message that I needed to write a book. So this happened when I started asking my guides what I would achieve by writing the book. The answer was that I will be able to convey the message that the universe wants many people to hear more comprehensively," says Samantha Kochharr.
Samantha, who started her journey in the hair and beauty industry at 11, has mentored young talent for many years. She has worked internationally and nationally in the movie and fashion industry for many years. She is also an avid painter and potter. Born into a business family, she is the daughter of the legendary aromatherapist – Dr Blossom Kochhar.
Samantha lives in Delhi and is passionate about food. She runs a popular delicatessen in Delhi, The Tea Room, where the menu is based on her old family recipes and extensive travels.
Instagram: https://www.instagram.com/samanthakochharr/
Amazon link: amzn.to/3i2Fkcw
If you have any objection to this press release content, kindly contact [email protected] to notify us. We will respond and rectify the situation in the next 24 hours.