Vaddepally Rajeshwar Rao from Kukatpally Sets a International World Record
Read Time:
4 Minute, 8 Second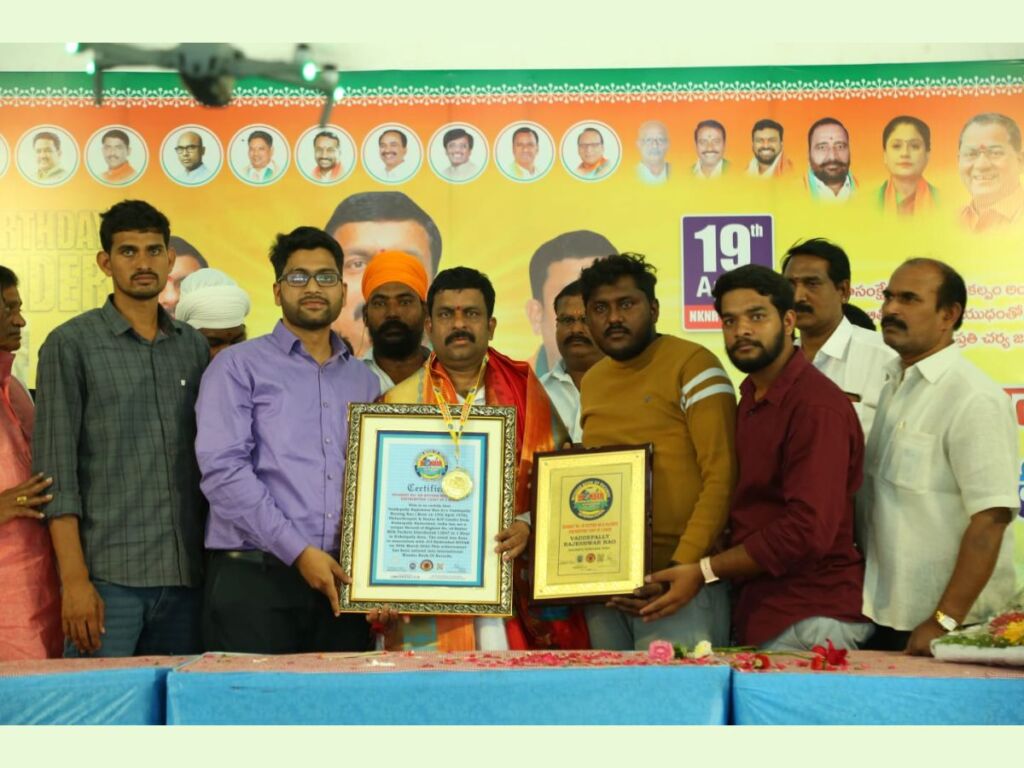 Senior BJP Leader Vaddepally Rajeshwar Rao from Kukatpally Sets a International World Record
Hyderabad (karnataka) [India], April 21: Vaddepally Rajeshwar Rao, a well-known philanthropist and senior political leader from the Kukatpally area of Hyderabad, has set a new record by distributing 13,547 packets of butter milk in just one hour. The event was organized in collaboration with JCI Hyderabad SUPAR on March 30, 2023 on the Occasion of Sri Rama Navami. This record has been officially recognized by the International Wonder Book of World Records on April 2, 2023 and Indian Chief-Coordinator Bingi Narender Goud has handed over the record to Vaddepally Rajeshwar Rao.
The event was held in Kukatpally, and hundreds of people from this area and other parts of the city gathered to witness the distribution of butter milk packets. Vaddepally Rajeshwar Rao and his team from JCI Hyderabad SUPAR had made meticulous preparations to ensure that the event went smoothly. The packets of butter milk were neatly arranged, and the distribution process was organized and efficient by the Volunteers of JCI.
The event started at 10:00 AM, and within an hour, a staggering 13,547 packets of butter milk were distributed to the public. The previous record for the highest number of butter milk packets distributed in one hour was held by an individual in Maharashtra, who had distributed 8,500 packets. Vaddepally Rajeshwar Rao's new record has set a new benchmark in this category, which will be hard to beat.
Speaking about the event, Vaddepally Rajeshwar Rao said, "This event was organized with the sole purpose of serving the people of Kukatpally and other areas of Hyderabad. We wanted to provide them with a refreshing and healthy drink during the hot summer months. I am very grateful for the support of JCI Hyderabad SUPAR and everyone who helped make this event a success."
Vaddepally Rajeshwar Rao is son of late Vaddepally Narasing Rao has been a social activist for many years and is a senior leader of the Bharatiya Janata Party (BJP). He has been actively involved in several social and humanitarian causes in the Kukatpally area and beyond. This new record is yet another example of his dedication to serving the community. Vaddepally Rajeshwar Rao is a dynamic and committed individual who has been actively involved in driving positive change in the community. His passion for social service and his unwavering commitment to making a difference in the lives of others have earned him recognition and admiration from both his peers and the wider community. Education has also been a cause close to Mr. Rajeshwar Rao's heart. He firmly believes in the power of education to transform lives and has been actively involved in supporting educational initiatives for underprivileged children. He has organized educational workshops, mentoring programs, and scholarship drives to provide access to quality education for those in need. Mr. Vaddepally Rajeshwar Rao's efforts in promoting education have helped numerous deserving students pursue their dreams and build a brighter future.
Vaddepally Rajeshwar Rao also does various activities for the betterment of society from VNR Trust like Blood Camps, Free Health Camps, Food Donations at Old age homes, Helping the Needy, Scholarships to Merit Students, Skill Development Trainings for Unemployed People and much more..Mr. Rajeshwar Rao's selfless dedication, innovative ideas, and tireless efforts have made a significant impact on the lives of many in the Kukatpally community.
" We congratulate him on Receiving international Wonder Book of World Record on his outstanding contributions to society and look forward to his continued efforts in driving positive change .We would like to thank all the support provided by Vaddepally Rajeshwar Rao garu for a Noble Cause and also for supporting and organizing various events like 30 Days Health Camps,  Food Donation Programs, ScholarShips for Merit & Talent Students in Kukatpally Area in association with JCI Hyderabad SUPAR" Said Nikeelu Gunda ( President of JCI Hyderabad SUPAR, Founder – Digital Connect)
JCI Hyderabad SUPAR is a voluntary organization, membership based NGO working in India. JCI Hyderabad SUPAR members work on a variety of projects, from promoting sustainable development to supporting education and empowering women. Joining JCI Hyderabad provides opportunities to network with like-minded individuals and gain valuable skills and experience.
Jc Ramesh Eppalapalli (Vice President – Business), Jc Chennamaneni Manasa (Joint Secretary, JCI Hyderabad SUPAR) have also participated in the Buttermilk Distribution Campaign.
The International Wonder Book of World Records has officially recognized Vaddepally Rajeshwar Rao's achievement, and he has been congratulated by people from all walks of life. This new record is a testament to his commitment to serving the community and his unwavering dedication to making a positive impact on people's lives.
If you have any objection to this press release content, kindly contact [email protected] to notify us. We will respond and rectify the situation in the next 24 hours.