10 Impactful CEOs Creating a Better Future with Their Bold Ideas and Long-Term Vision
Read Time:
6 Minute, 0 Second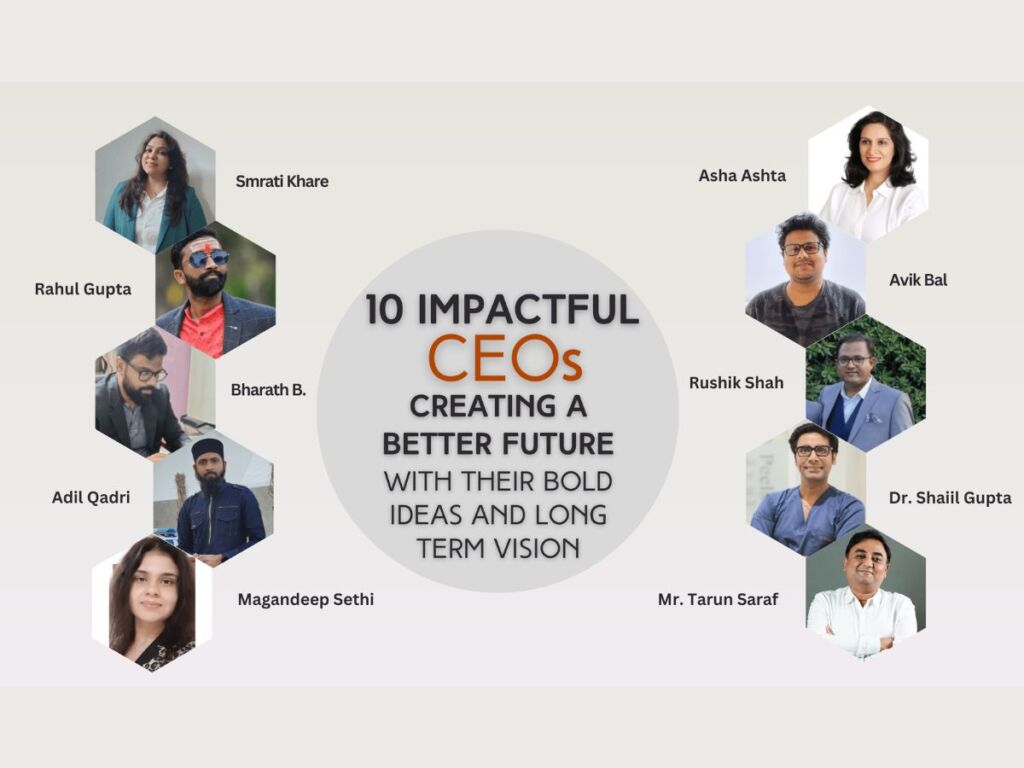 New Delhi (India), May 5: Creativity and consistency to innovate and excel are the foundation for a strong change. The development of a certain sector completely depends on the people working for it. The innovative ideas that scream for revolutionary change are the base of all development. With the contribution that people make towards this change, they hold great power to influence how things work. Indeed, the strength to turn ideas into reality is the core of everything.
Here are the 10 most influential CEOs who have defined what it takes to hold on to bold decisions and turn a long-term vision into a reality.
Smrati Khare
Smrati Khare is a visionary leader and the CEO of Cricadium, an online platform dedicated to providing cricket fans with the latest news, scores, and updates. With over 12 years of experience in the digital media industry, Smrati has been instrumental in driving the growth and success of Cricadium. Her strategic vision and leadership skills have transformed the platform into a leading cricket website trusted by fans globally. Smrati's passion for cricket and her commitment to provide valuable insights and analysis to fans have earned her widespread recognition and respect in the industry. Under her guidance, Cricadium continues to evolve and innovate, offering new and exciting services to its followers.
Rahul Gupta
An exceptionally multi-talented persona and a renowned name, Rahul Gupta is the State Excutive Member (BJYM UP), General Secretary of Lucknow Mahanagar Sarrafa Association and the President of Theatre and Film Welfare Association, Uttar Pradesh.  Rahul Gupta is a sincere patriot who is committed to upholding all laws that support the development of his country.
He is the director and CEO of Anandi Magic World And Globe Magic Private.
Bharath B
Bharath is the Co-founder and CEO of NEUCONOMI(R),  an award winning independent marketplace platform for simplifying commercialization of digital technology Patents globally, it also manages multiple R&D facilities that concentrates on the deep tech and have filed multiple in-house Patents.
Bharath is an outstanding entrepreneur who has spent twenty years working in digital technologies.
He is an inventor with Patents in AI, Blockchain, IoT and advanced technologies. He and his scientific work were published in globally renowned scientific journals.
Additionally, he is also a startup angel investor, he have been recognized by both international and national media for his contributions to the digital economy.
Adil Qadri
Founder of Adilqadri Perfumes, an online roll-on perfume company that specializes in offering premium fragrances at competitive prices. The company's main goal is to offer premium products with a dash of luxury aroma without sacrificing quality or sustainability.
The name Adil Qadri is well known in the field. He is a wonderful and creative leader that concentrates on developing premium items with priceless ingredients that go above and beyond what people anticipate. The company's Shanaya perfume has become one of the best selling items on the two biggest e-commerce sites, Amazon and Flipkart.
Magandeep Sethi
She is the investor and Think -tank of the food irradiation services firm Kanabhuk Nabhikiye Urja Vikash Samridhhi OPC Private Limited (Kanuvim). With the aid of nuclear technology, the organization has pioneered the idea of irradiating food to create digestible foods and other useful goods. Kanuvim creates edibles by combining "Lean Technology" and "Food Irradiation" to reduce the risk of "Zoonotic Disease" in the post-covid world.
Magandeep Sethi is well-known in the corporate and branding industries for her role in bringing innovation to the revolutionization of desperately needed resources.
Asha Ashta
Asha is a top-notch Expert in Women's Weight Loss. She has designed UnLOAD, the only Weight Loss Challenge in the World, which emphasises on regular normal meal. She vehemently opposes the very concept of Calorie Deficit. Using Wheat and Rice and Without any medicines, supplements, fasting, or exercise, Asha has assisted 50,000+ Women in losing weight and curing life-threatening illnesses. She has authored the Book "Freedom from Excess Weight" the #1 best-seller on Amazon. UnLOAD, the Unique bootstrap Startup, has been growing 2x YoY for the past 3 years. Now, her goal is to scale it 10x within this year.
Avik Bal
Avik Bal is passionate about empowering brands with data-driven insights to drive digital experiences across the user journey – from conversations to conversions. NowThis Digital has emerged as a leading innovator in using AI/ML Data Tech-driven transformations to improve Digital Marketing efficiency.
With a focus on creativity, collaboration, and cutting-edge technology, Avik and his team at NowThis Digital have helped 120+ brands from across the globe achieve measurable results, gain digital market share, and establish digital leadership. NowThis Digital is a globally recognized Digital Strategy & Analytics Agency for B2B brands and is known for its uniquely positioned Digital strategy frameworks, industry handbooks, and Data strategy blueprints.
Rushik Shah
He is a visionary entrepreneur and the founder of Alakmalak Technologies Private Limited, a customized web solutions providing company that focuses on achieving ultimate customer satisfaction. The professionally skilled team builds a customized and articulated easy-to-use interface using the best IT solutions. With a constant drive to get the best out of innovation and creativity, the company is committed to exceptional project execution.
Rushik is the author of the book "Ting in the Marketing" which is also the driving force behind the company's success. The company has completed over 3000 projects.
Dr. Shaiil Gupta
Dr. Shaiil Gupta, a renowned dermatologist and hair transplant surgeon in Delhi, has over 20 years of experience in his field. He is the founder of Satya Hair Solutions and has expertise in surgical and non-surgical techniques for treating hair loss. With over 20,000 surgeries under his belt, he specializes in repairing poor quality or failed hair transplants using advanced techniques and equipment. Dr. Gupta provides personalized treatment plans to ensure optimal results for each patient. His passion for helping people has made Satya Hair Solutions one of the leading hair restoration clinics in India.
Mr. Tarun Saraf
He is the founder of Saanvi Cosmetics Private Limited, LA French, and Mancode. The commitment is to provide the most premium products that excel in quality while the products are available in quite a competitive price range. Also, the company is completely based on inclusiveness and diversity which leads to increasing inculcation of innovation into the products.
Mr. Tarun is an exceptional entrepreneur who believes in teamwork to provide the best products to its customers. He is also the man behind the successful operation of the business and all the successful endeavors are initiated by him.
These influential personas have created a stir in their respective fields and their contribution to the sectors is unmatched. As the drive for innovation and creativity form the base of all development, these people have been inculcating the best of values to bring out the solutions that create possibilities of all time.
If you have any objection to this press release content, kindly contact [email protected] to notify us. We will respond and rectify the situation in the next 24 hours.