"Chidiakhana: A Heartwarming Tale of Passion, Team Spirit, and Underdog Triumphs Set to Hit Theaters on June 2"
Read Time:
2 Minute, 11 Second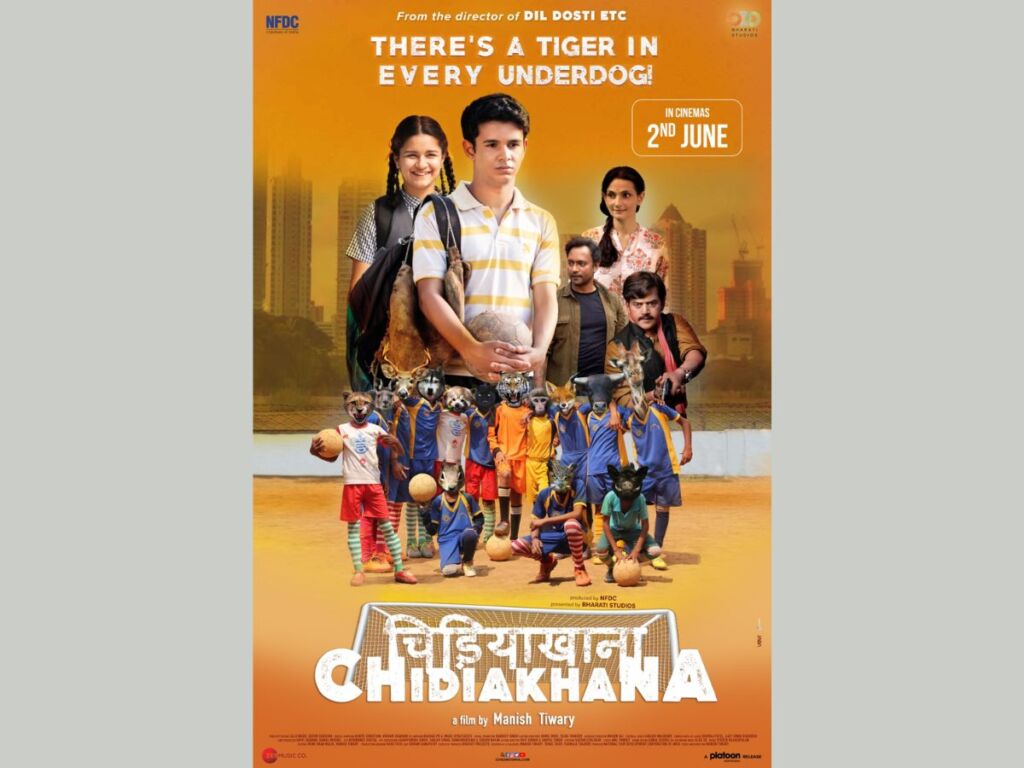 New Delhi (India), May 17: After Dil Dosti Etc and Issaq, ace director Manish Tiwary's latest offering Chidiakhana is all set for a June 2 release. Produced by National Film Development Corporation (NFDC) and presented by Bharati Studios, the film will be released by Shiladitya Bora's Platoon One.
A coming-of-age story of a Bihari boy (Ritwik Sahore) who is embraced by residents of a Maharashtrian chawl due to his grit, imagination and especially his soccer skills. The film beautifully highlights on how there is a tiger in every underdog among us.
"Chidiakhana is the story of an underdog who makes his mark thanks to his passion for football, and in the process, not just empowers himself but also his friends, his educational institution and turns enemies into friends. Chidiakhana is a story of team spirit and togetherness, and how when small drops come together, can become the ocean," avers Manish Tiwary.
Manish Tiwary is particularly passionate about the casting choices for this film. "Ritvik Sahore seemed the perfect fit for the lead character Sooraj, as his innocence reflects in his demeanor. Avneet Kaur, as Sooraj's crush, is like a breath of fresh air. Rajeshwari Sachdev works well as the mother who has left everything to safeguard her child. Prashant Narayanan stands out as the Gunda with the golden heart. Ravi Kishan, Govind Namdev and Aanjjan Srivastava play their characters with amazing conviction. Each of the boys from the football team comes with their strengths, weaknesses and character. Hence, Chidiakhana, as seen through the eyes of the protagonist," elaborates Manish Tiwary.
Interestingly, Manish Tiwary, who hails from Bihar, was educated at Cambridge University, UK, and Yale University, USA.
The film sees Sooraj hailing from Bihar and coming to Mumbai and finding his foothold in the labyrinth of this city.
Shiladitya Bora of Platoon One is happy to distribute the film. Says he, "Being an avid fan of Dil Dosti etc, I was very happy and proud to get associated with the distribution of the NFDC film.
It has strong performances coming from both young and seasoned actors such as Ritvik Sahore, Avneet Kaur, Prashant Narayanan, Rajeshwari Sachdev, Govind Namdev and Ravi Kishan.
You feel a passion for the game of football coming through in Chidiakhana, a classic underdog story. You come out rooting for the entire team that made this beautiful film possible."
Chidiakhana is releasing in theatres on June 2.
If you have any objection to this press release content, kindly contact [email protected] to notify us. We will respond and rectify the situation in the next 24 hours.