Shilpa Shetty Unveils Corporate Leader Meena Chabbria's Book 'Unstoppable'
Read Time:
4 Minute, 23 Second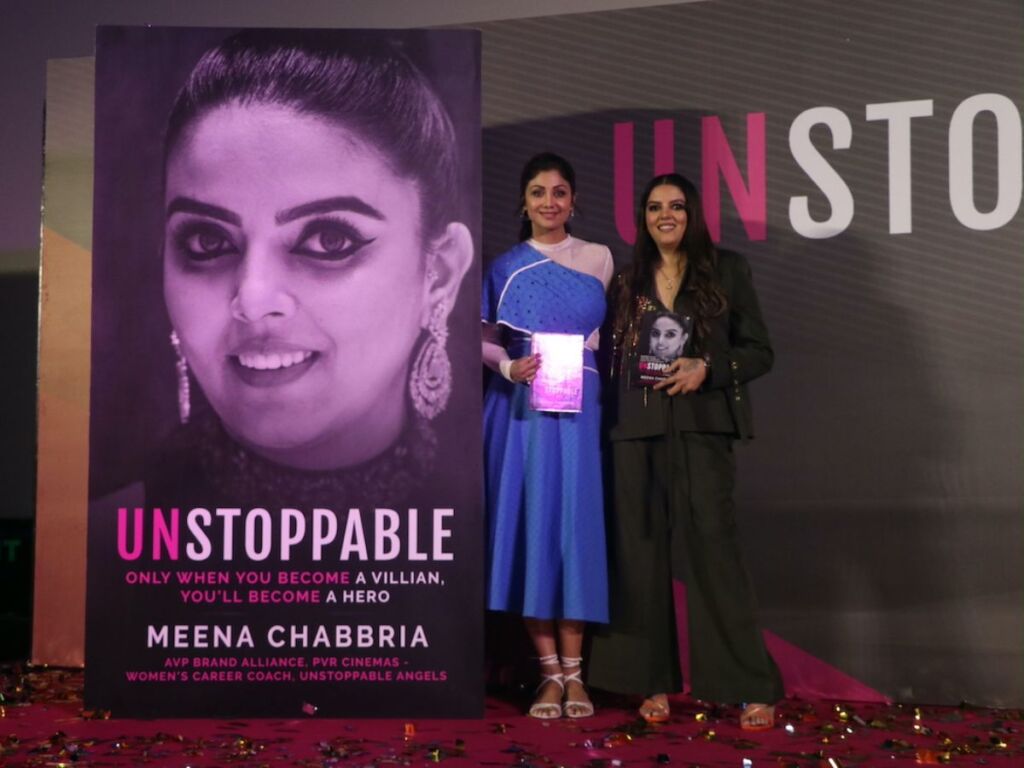 Illustrating her inspiring journey to success, Meena demonstrates how she broke glass ceilings despite all odds in her book and became the AVP of PVR Cinemas.
 New Delhi (India), May 22: Meena Chabbria, Assistant Vice President of Brand Alliances at PVR Cinemas, South India and Sri Lanka, proudly unveiled her much-anticipated autobiography, 'Unstoppable' at PVR Juhu, Mumbai.
In 'Unstoppable', Chabbria brings to life her remarkable journey from humble beginnings to a leading role in the corporate world. The book stands as a testament to her unwavering determination, resilience, and deep commitment to women's empowerment.
The book launch, a grand event, was graced by renowned personalities, including leading Indian actress Shilpa Shetty, Success Gyan CEO Surendran J, leadership and life coach Gagan Adlakha, and leading digital coach Siddharth Rajsekar.
Speaking at the book launch, leading actress, fitness icon and entrepreneur Shilpa Shetty said, "I have known Meena for a long time and every time I have met her, she has always been so happy and positive. I had no idea about her struggles till I started reading her book 'Unstoppable'. I have a huge amount of respect for people who have come up the hard way and made it like Meena. She has made it in every sense of the word. I believe this book is going to be useful for women all over who are seeking direction. I am so proud that Meena has put down her inspiring journey in Unstoppable because as my mother always says strong women make stronger women. Here's to your Unstoppable journey .''
"I am thrilled to share my journey with the world through 'Unstoppable'," said Meena Chabbria. "My hope is that my story will inspire and empower women to navigate their unique challenges and reach their full potential."
Meena came from very humble beginnings. She grew up in a Sindhi refugee colony in Coimbatore, and her first job was that of a preschool worker and then an attendant to an elderly person. She worked relentlessly when she landed her first corporate job as a telecaller at Shaimak Davar's dance academy, and from there, there was no looking back. She went on to work at Inox and has been a force to be reckoned with at PVR Cinemas for the last 13 years. All this while, she was a single mom on double duty with two beautiful children.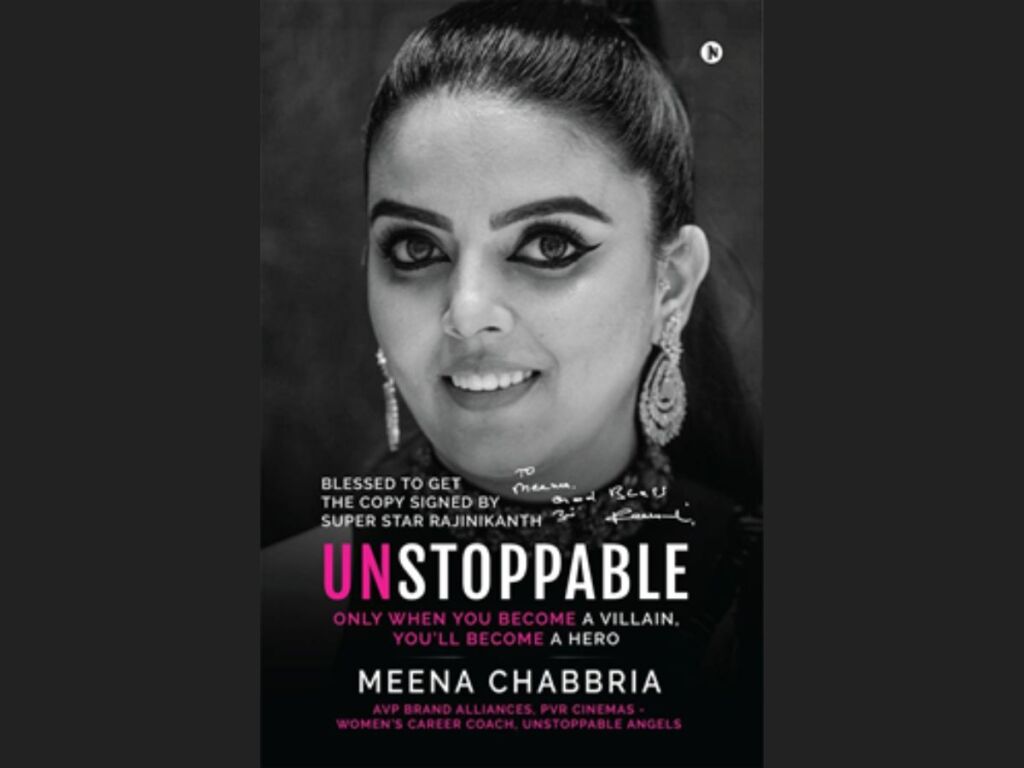 In a relentless drive to uplift women, Meena Chabbria is also the founder of Unstoppable Angels, a transformative programme to empower women to succeed in their careers and reach their full potential.
The book 'Unstoppable' not only marks the celebration of Meena's exceptional journey but also her commitment to empowering others. It offers a captivating exploration of overcoming adversity and achieving success in the face of challenges.
Present at the launch, Surendran J, CEO, Success Gyan, said, "Meena embodies the very essence of tenacity. Her unyielding determination and insatiable thirst for knowledge truly set her apart. It's these qualities that render her genuinely "unstoppable." I am filled with immense pride as she unveils her book today. Her story is not just a narration of her journey, but a powerful testament that will resonate, inspire, and make a significant impact on the world." .
"I am filled with pride witnessing all that Meena has accomplished and, more importantly, her decision to share her wisdom and insights with the world. As a stalwart in the corporate world, her choice to uplift others, especially women, through her 'Unstoppable Angels' initiative and her book 'Unstoppable" is truly inspirational. Meena's actions underscore the true mark of leadership: not just reaching the summit, but extending a hand to help others ascend as well.", said Siddharth Rajsekar, Founder, Internet Lifestyle Hub
"Meena's journey is a powerful narrative of resilience, determination, and vision, beautifully encapsulated in her book 'Unstoppable'. Her strides in the corporate world and the ability to consistently reinvent herself are admirable, but what truly sets her apart is her commitment to fostering a generation of strong, confident women leaders. With 'Unstoppable', she is not just telling her story but lighting a path for others to follow.", said Gagan Adlakha, Leadership and Life Coach
 For more information about the book launch and the autobiography 'Unstoppable', please visit https://meenachabbria.com/ .
The book is available for INR 1299 on Notion Press, Amazon.in, and Flipkart.com.
About Meena Chabbria
Meena Chabbria is the Assistant Vice President of Alliances at PVR Cinemas in South India and Sri Lanka. A successful business leader and advocate for women's empowerment, Chabbria holds multiple management degrees from prestigious institutions such as UCLA, IIM Raipur, ISB, and MICA.
She is a corporate icon, a mother, and a role model for women all over the world. She is relentless, showing women they can succeed on their own merit without any external forces.
If you have any objection to this press release content, kindly contact [email protected] to notify us. We will respond and rectify the situation in the next 24 hours.